I have always considered myself a pretty bold person. As a matter of fact, I admit that I may be a little on the TOO bold side of things occasionally. You can never miss me in a crowd. It's part of my nature that I just haven't learned to mellow out yet. Every January 1st I make a New Year's resolution to somehow curb that overly boisterous side which embarrasses my kids every time I go out in public. Unfortunately, this year I FORGOT to make that resolution.
Now, WITHOUT that commitment in place to tone things down a few notches, you can imagine that I felt no hesitation to accept a request to do a Gardening segment on the CTV Noon News when they called last week. I mean, it was only a 4 minute segment. I figured I should be able to keep myself from causing any trouble. Surely in such a short time I could not do enough damage so that my kids would wish they were born to another mother, right?!
Let me tell you, this whole going on TV thing requires quite a bit of preparation and team work. It never occurred to me until this week how many people it actually takes to get just a few minutes of television viewing time together. My own Milner Village Garden peeps were busy getting things together for me to take as props for the set. Painting and planting, sawing and nailing, fabulous planters were created behind the scenes.
And where was Tamara?
Why, shopping for a new dress of course!
Unfortunately for me, I do not have a stylist so I had to have the shop keeper take photos to send to my kids to make sure they approved of my choices.
I will admit, I went a little BOLD on my shoe selection.
I hope my children will forgive me. I just couldn't resist. These were just so FLORAL that I had to buy them!
On the morning of the segment my peeps at the greenhouse packed up the big old red van for me. It recently had been in a slight fender bender in our parking lot and the passenger side door will no longer open properly. So, that meant we all had to crawl in via the drivers side door. Not an easy feat for a regular person but......
my Little Angel is 8 months preggo and not nearly as flexible as she usually is. However, she is as determined as her mother and managed to get settled in no problem.
Now, it should be said that I had not given my guys complete instructions on who was all going to Vancouver with me so when they loaded the van, they removed all the seats except the two front club seats. That meant I would either have to sit on the floor or....
squeeze in the back on a chair from the coffee room.
Do you think Martha Stewart started out like this?!
Once we finally made it down town, we had to lug all of our stuff upstairs to the studio. At one point, the guest coordinator refused to accept any more plants in the elevator. I had SO MANY nice planters that I wanted show off!
Up Cycled Watering Can and Teapot
It's amazing what you can do with some old bed posts and a couple of rusty tins!
My friend Shelley from
Sow and Dipity
planted up this FABULOUS retro lunch box with some herbs........
and this rusty old tool box.....
not to mention this muffin tin filled with succulents!
THANKS for getting that all done for me, girlfriend! You made me look good on TV.
Once we got there I had to do a wardrobe change because Google told me that when appearing on Television, a TV presenter must appear wrinkle free.
I even got my make up done in the same make up chair as Mi-Jung Lee!
By the way, Mi-Jung. I was so nervous when you asked me where I got my beautiful SHOES that I didn't even answer your question. I have been losing sleep over that ever since! FYI, I bought them in Langley. Stop on by Milner Village Gardens and I can take you to all my favourite shops in town!
Did I mention that I love to shop?!
Once everything was all in place we just had to wait.
And WAIT.
Good thing the Big Guy and I had our iPhones with us or we may not have lasted.
And then it was time.
This young man in the jersey is busy telling me "We are going to do a 10 second clip of you before the commercial break so do something like move a plant or wave to the camera. Anything will do"
Sad to say, I chose to WAVE AT THE CAMERA.
"Hi kids! It's your mom on television! You're not embarrassed of me, are you!?"
Once the actual segment got under way, things went FAST.
The cameras were moving, pictures were flashing, Mi-Jung was talking. It was all a blur! When it was over I had absolutely no idea what I had actually said. I had done so much preparation on what I wanted to say and it all went by in a haze.
I hope I didn't say anything too crazy that would make my kids wish they were born in Tasmania or Timbuktu, or anywhere but Langley.
In the end, a good time was had by all. I was very thankful to my Wing Men, the hubster and my daughter, for coming along on the adventure. I couldn't have done it without them.
They kept me calm and grounded. They lugged all the plants upstairs. They waited in the wings while I blabbed and blabbed.
It's not easy having Tamara for a wife or a mother, that's for sure. I'm kinda high maintenance :)
So, if after ALL that, you would like to see the actual segment,
click here
.
Have a great week y'all. Make sure you don't forget to plant your garden soon. It's about time.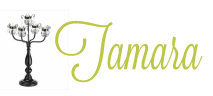 4 Comments »