My family has told me that of ALL the holidays we have ever taken them on,
winter ski holidays
are the BEST. I don't quite understand how that is possible. I mean, we have
traveled
as a family to
Holland
, France,
Brazil
, Mexico, the Bahama's and many other points in between. Yet, they insist that their most favorite trip of all was skiing at Big White in good old British Columbia.
I can't say I agree.
But, being the great Mom and Dad that we are, we agreed to rent a condo once again this Christmas that was big enough to hold all 18 of us.....
The Condo at Big White, Christmas 2011
I asked Mini Me to get it organized since I was out in China and didn't have much computer access. I knew that finding a place that was big enough for everyone was going to be a real challenge. As a matter of fact, trying to find something with only 2 weeks before December 25 was pretty much an impossibility.....
The Living Room
And yet, they found a GREAT location that was fit for people from age 5 days to 50 years.....
The kitchen
With a wonderfully equipped kitchen.......
Master Bedroom
And all the beds and sleeping quarters we would need to pack in not just ONE family but FIVE families in total!
As you can imagine, when I saw the photos of this place, I immediately said "That's PERFECT!" and the reservation was made.
So, we all hopped into vehicles and formed a caravan at 7 am on Boxing Day. Braving the cold and icy terrain of the Coquihalla Highway, we raced up to Big White to spend 2 nights together RELAXING.....
PUZZLING.....
HOT TUBBING......
BABY HOT TUBBING (at much lower temperatures).....
NURSING.......
COMPARING BABIES.....
BBQing.....
GAMING.....
GAMING FOR YOUNG 'UNS.....
and in general, a LOT of time was spent in the snow!
Of course, that also means we spent a lot of time getting DRESSED to go out in the cold too.
This was Wee Two's first experience in the snow. I think he had a few trepidation's about it all.
As a matter of fact, he was not the only one with some feelings of hesitation about hitting the slopes. Nope, his Gramma felt some serious misgivings about the whole thing so......
Here she can be seen at the top of a very high mountain, wondering if perhaps the Big Guy was trying to get rid of her in a seemingly unfortunate ACCIDENT.
As a matter of fact, Tamara SURVIVED her skiing ordeal, despite her fears to the contrary.
Perhaps she is SPORTIER than she gives herself credit for after all??!!
Naaaaah! It was that glass of Red Wine the Big Guy promised her was waiting at the bottom of the hill which kept her upright and fall free all the way into the Village!
In the end, I still can't quite see how a ski holiday could possibly beat a vacation in a tropical climate but.....
Oh, and if we hadn't taken this little family jaunt, I never would have seen THIS priceless KODAK MOMENT.
The Wee One claims Gramma and Grampa's bed as her own!
Time with family, no matter where you spend it, is most definitely more precious than anything.
Junior and Cinderella
Wee Two is not quite sure about snow just yet
Until next time!
Don't forget to check out FUNKY JUNK INTERIOR's
Saturday Night Linky Party
to see how our blogger peeps spent their Christmas' out in blog land!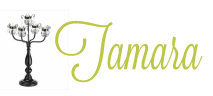 7 Comments »