Tomorrow's the BIG day! My middle child, Opera Diva, is going to tie the knot with her French horn playing, logistics loving, most wonderfully gentle fiance, Mr. Detail Man.
These last few weeks have been very busy with all sorts of organizing and planning. My "to do" list is outrageously long and we only have one more day.......
The bride and groom have been helping all week to get everything in order.....
You guys are the GREATEST! Although, I'm afraid I may have overwhelmed my new son-in-law with my whacky party planning. Realistically, I am a slightly "over-the-top" kinda gal. Not everyone can handle my, shall we say, eccentric style. Unfortunately though, I WAS BORN THIS WAY!

Tamara (in the sombrero) with her sisters circa 1970

So, dear son-in-law, I humbly apologize for all the outlandish party planning that you have had to put up with over the last 6 months.
I'm so glad you are so EXCITED about our venetian party theme......
My crew hard at work!
I'm so glad that you are the kind of guy who's not afraid to be a bit EDGY......
although you did draw the line at my NAKED MANNEQUIN. Don't worry, son. I promise to put some clothes on her before the guests arrive.
TRUST ME! I'm you're mother, aren't I?!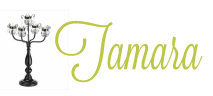 3 Comments »