Last week the Big Guy and I hopped on a plane and flew out to New York to check out garden centers on the east coast. It wasn't planned. We looked at eachother over our morning coffee on Monday and decided that we needed an injection of inspiration and we knew just how we were gonna get it. The Hamptons. Where else?!
I wonder if watching a re-run of "The Real Houswives of New York" recently had anything to do with our decision? I just love watching that show. Bethany is just so fun. She makes me want to start developing my own line of hard liquor. I'd call it "Skinny Gramma". Taste testing would be exclusively MY job!
Unfortunately, travelling that far meant we had to suffer a bit of jet lag as well as endure scorching heat that peaked at 112 degrees. We never saw even a single New York Housewife. We had to make do with standing in front of Carlo's bakery instead.
I'm a fan of the Cake Boss too. Watching Reality TV shows helps me keep my own problems in perspective. I mean, delivering our hanging baskets in the Spring seems like a cake walk..... no pun intended.... compared to delivering a 10 tiered wedding cake through busy New York city traffic.
We toured Long Island and New Jersey, searching for our Garden Center Shangri la.........
eventually landing up in far-away PHILADELPHIA at the most AMAZING garden center.....
in the UNIVERSE!!!
Terrain at Styer is a very old location that was bought out by the owners of Anthropologie and Urban Outfitters in 2008.
They plan to be a force to be reckoned with in the garden center industry.
They want to expand out across the States with 50 locations......
Wow! They sure know how to DREAM BIG, don't they?!
The above information was posted back in 2008 when they first opened up. That was before we all were hit by an incredible economic meltdown of giganic proportions. Too bad we can't see into the future before we all make big decisions like opening new stores or commit to expansions. Wouldn't life be so much better if we knew what the future held?
Or WOULD it?
I mean, if the owners knew that all sorts of financial mayhem and madness was about to ensue, then perhaps they wouldn't have gone through with opening their doors.
They focus on using ALL NATURAL materials throughout the entire store. There's lots of GLASS......
and RECLAIMED WOOD......
NATURAL ELEMENTS.......
OLD TREE STUMPS.....
All that ECO FRIENDLY stuff is put together so beautifully that it even makes a non-recycler/throw it in the bin kinda gall like myself want to jump on the RE-PURPOSE bandwagon. I can hardly believe it!
The Big Guy and I stayed here for FOUR hours, browsing and soaking in the ambience. The old greenhouse has been turned into a BISTRO where we shared a delicious brunch.
I wanted to try the cold CUCUMBER SOUP in honor of our current cucumber crop which is pumping out thousands every day back at home.
The Big Guy took one taste of it and promptly declared "It LOOKS and TASTES like POND SCUM!" and then took a long phone call while I finished it off.
NOTE TO SELF: Do not bother to make CUCUMBER SOUP at home.......EVER!
Fortunately we had also ordered pancakes with fresh blueberries and vanilla whipped cream to finish off the meal. It was DELICIOUS!
NOTE TO SELF: Keep a stash of vanilla flavored WHIPPED CREAM in the fridge......ALWAYS!
Suffice it to say, TAMARA enjoyed herself immensely. I just can't tell you how much I love my job when it allows me to meander around such a beautiful place searching for ideas and inspiration.
I think that this year I should fashion a product line-up that is INSPIRED BY NATURE! Because nature is just so......
INSPIRING!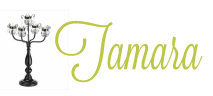 4 Comments »