Today is just one of those days. A day that is just too busy. The Big Guy has us scheduled to do way too many things. They just can't all be accomplished in a single day. So many things, as a matter of fact, that I think he felt a twinge of guilt. That guilt set in while I was busy writing down all my tasks in a "To Do" list so I wouldn't drop the ball on anything important. It was so long that he suddenly asked me if I had made sure to include a HOLIDAY as part of my list.
"Uh, no. I didn't put that on the list. Should I?!" I asked incredulously.
"Maybe we need to go back to India to check on production there" was his reply.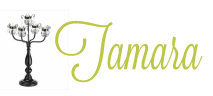 2 Comments »