Yesterday I decided to step outside my comfort zone.
WAAAAAAY
outside my comfort zone. I decided it was time to finally tackle those pillows I promised to sew up for my Little Angel. I haven't sat behind a sewing machine in 15 years.
I was a bit nervous about it. I even tried to chicken out by phoning a friend from church for expert assistance.....but she must be on holidays 'cause she never called me back.
Or maybe she thought I should be able to figure out how to sew a pillow all by myself.
You know, the minute I got my foot on the gas pedal, it was just like riding a bike.
Apparently, once you know how to sew, you never forget. We knocked out pillow after pillow until every scrap of material was present and accounted for.
Would you just look at THIS?!
I feel so guilty that I'm sewing these pillows when I know the Big Guy has at least 2 pairs of dress pants that are badly in need of a hem. I taped them up with duct tape a while back.......I should probably hem them once I'm done the pillows.
Now, the best part of this project is how much money we saved on having designer pillows made for the nursery.
Think about it, at $30 each, the cost for 9 of these babies ordered from a
designer
would have cost $270........and we only spent $80. That means we made a whopping $190 by doing this project ourselves. Even better is the fact that........ WE DID IT OURSELVES!
But that is not all, blogger peeps! Oh no. My Little Angel and I also made an upholstered window bench to match.
I have watched too many design shows to not attempt a simple bench......not to mention the fact that this would cost around $400 to have made at a professional shop in town.
I know this because I checked. I wanted to chicken out on this project too :)
We are really trying to get this project finished as soon as possible because the Wee One is due to make an entrance soon.
My Little Angel is starting to feel a bit uncomfortable, what with the summer heat and the kicking and the bumping my
grand baby
is doing.
I think this pair is gonna make a great Ma and Pa, don't you?!
I'll leave you with a little teaser here today. If you want to see a bit more of the nursery, you'll have to come back on Monday.
Make sure to stop by for Metamorphosis Monday and check out how things are looking so far!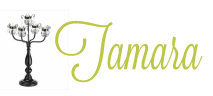 9 Comments »