I just love beautiful things. In fact, I'm HOOKED on beautiful things. Being in the flower business is so much fun because I'm surrounded by beautiful things every day of the year. But it's what you can DO with flowers that is the most FUN and INSPIRING!
Life is just so much better with flowers in it, don't you think? They really make life more BEAUTIFUL.
Last night I was sitting with the girls watching my favorite movie, My Fair Lady which starts my most favorite actress, Audrey Hepburn.
She has such grace and charm, the sort that's not easy to find in the world today.
Once the movie was over........I got to thinkin! Uh oh, It's never a good thing when Tamara has time to THINK!


Anyway, I got to thinkin', wouldn't it just be a hoot to have a "My Fair Lady" themed party?! I mean, imagine how beautiful you could set the tables if you went with a black and white theme, just like in the movie!
You could incorporate crystal CHANDELIERS..........
or lovely lacey WHITE UMBRELLAS
oh no, wait, BLACK UMBRELLAS.......
Orchids would be a must..........
candles could set the mood just perfectly.
I'm not going to be able to sleep tonight, I'm so excited about my idea for a party! This would make a GREAT wedding theme too........too bad Opera Diva's only 16 because I'm in the mood to organize a big shindig :)
Now, I found these gorgeous pictures on a fantastic Event Design website from Isreal that you really should check out for yourself. Just click on http://www.elkijacobs.com/category_page.asp?id=37 for some more gorgeous inspiration.
Also, don't forget to go over to Hooked on Houses to see what everyone else is hooked on today. Click here http://hookedonhouses.net/2009/02/19/hooked-on-dutch-doors/
Or, you should pop by The Inspired Room to check out how to be inspired at her BEATIFUL LIFE party. Click here http://theinspiredroom.net/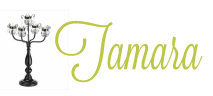 12 Comments »