Today is "Hooked on Friday" over at Hooked on Houses and that means I get to let everyone out there in blogland in on what I am absolutely "Hooked On" this week. I had to put a lot of thought into it and it suddenly hit me......I'm really hooked on GREEN! Maybe because I've been in the GREENhouse industry for the last 20 years growing GREEN plants in GREEN pots. Really, it's now wonder I'm hooked on GREEN.
I love GREEN because it's VIBRANT......
I just love how FRESH it looks........
how ALIVE it looks.........
how FUN it looks.......
how GREEN it looks!
The pictures you have just seen are all photos of my little Angel's wedding this past September. Would you like to see more? Then just go to the following post and enjoy......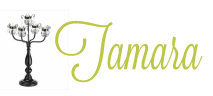 8 Comments »