Against all odds, we have finally got our container! HIGH FIVES everybody out there is blogland! Woohooo! Yippee! Yeeehaaa! You may notice that the container is not GREEN as I posted previously but is actually BLUE. Here we were, searching the high seas for a Green container when we should have been looking for a BLUE one!
As soon as our container backed up to the dock, the guys got to work unloading the boxes as fast as they could. It was empty and back on it's way in 30 minutes.
Look at these guys sweating under the pressure
of getting this product out onto the floor so we can pack up our poinsettias to ship to market less than 24 hours after we get the pots.
This was just a little too close for comfort for me!
Now, after all this craziness, I did a trip down into Seattle to look for new ideas for Christmas 2009. It's a tough job, shopping the garden centers, looking for ideas, but somebody's gotta do it!
This trip started out with a BANG! Literally! We had a very sever blowout while driving on the I-5 at 100 km per hour.
We managed to pull safely over to the emergency lane where we waited for some expert assitance. Personally, I've never changed a tire before so we decided to get towed to Les Schwabb for a replacement! The tow truck driver told us that we should say a special "Thank you prayer" tonight because a blowout like this one should have flipped the vehicle!
By about mid-day we finally made it to our first stop, Molback's in Seattle.
Now, ladies, if you want to see a really fabulous garden center, this is the place to stop. They have a perfect balance between live plants and home decor that is just astounding.
You can find some high quality poinsettias on one side of the store
and a ton of fabulous Christmas displays on the other side.
There is just something about gazing at all this glitter and glitz that just makes my blood RUSH! I'll take one of these......
and one of these.......
two of these to give away as gifts to my sisters..........
One of these for my living room......
FOCUS TAMARA, F...O...C...U...S! Ok, I love my job sometimes, I will admit :)
I will be posting more info on my garden center trips soon but FIRST........I would like to announce that Mini-Me has decided to start a blog! Yes, I have badgered her (like Martha must have badgered her daughter) to start blogging and she has just made her first post. Check it out! It's kind of like the new show "Whatever, Martha!". I promise you'll get a good chuckle so just click on this link:
http://mymomsaidihadtostartablog.blogspot.com/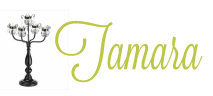 12 Comments »