Did you happen to notice the big chandelier that hung in the middle of the reception hall for my little Angel's wedding? Wasn't it just FABULOUS?! You're not going to believe this but actually......I made. Yup, you heard me......that is a unique piece of art made especially by me. I had looked into renting a nice big one but they were quite expensive. At one rental place that I stopped at, I got a real close look at their light and realized that it was a home made job, and not a very good one, but from a distance it looked pretty nice.
That gave me an idea......uh oh, watch out! Tamara's got an idea......
The first step was to do a little investigation on the internet.
I found this simple style and, based on this I drew up a diagram.
I took the diagram to the greenhouse and asked our resident Welder Guy to make one up for me. Our Welder Guy is such a gem! He set to work immediately to try make my chandelier frame.
His first attempt ended in failure but.....a few days later he tried again.
This time it was successful.
Next I called up my brother in law, Slim Jim, and asked if he could help me with the electrical part of the light.
Electrical things are a specialty of his. I stopped by at Ikea and bought a few simple light sockets that he was able to attach to the arms of the chandelier.
Then he added some rope light for a little bit of mood lighting.
Once the lights were on, it was time to add the "Bling". That's my forte! I just love "Bling". I bought 700 feet of pearls from my local Florist Supply store. Next I ordered 40 garlands of acrylic crystals from a Floral Supply place in Ontario (only 5 days drive from here). It took about 2 weeks for all the crystals to arrive.
Look how pretty they are!
I found out that it's actually quite a bit of work to string 700 feet of pearls onto a chandelier frame, just in case you were wondering.
My new son in law gave me a hand putting it together which was wonderful. Can you imagine that? Instead of telling me that the whole idea of a giant 6 foot chandelier to use as decoration at the wedding was way over the top......
he helps me put it together! Isn't he just a doll?
Anyone looking to rent a home made, used chandelier for their next party?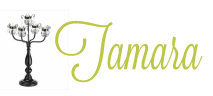 29 Comments »