In all the business of life as a modern day farmer, it's easy to get caught up in the daily drama and crisis of running your own business. Sometimes it gets a bit overwhelming, all the little disasters that strike on an hourly basis. Somehow, if you don't take time to step back and take a look at your life, it will run away with you to some place you may not have wanted to go.

So it's great when big events happen that remind us about what's really important in life. These big things remind you that, even though you've got Produce to sell before it's too late, your trucks are burning down to the ground somewere in the middle of the Rocky Mountains,
or your newest design just came in from China in chartreuse green rather than the burnt orange you ordered, life is all about the people that you love.

I am so blessed to have a great big family that I love dearly and our family has a great big event coming up next month....a wedding! My darling daughter, my little Angel, is getting married. So what do I care if the chrysanthemum crop isn't quite ready on time or that all 50,000 plastic pots are discoloring from standing out in the sun? In the scheme of things, it's not such a big deal because I've got a wedding to plan!

Since last January, my little Angel and I have been busily planning away. Me and the girs trouped out to Vancouver for the Bridal Fair to get our feet wet on what weddng planning is all about. My middle daughter, a real Opera Diva, has no opinion on what looks good but my younger daughter, Mini Me, took to party planning like a duck to water!


Mini Me and I helped my Angel pick out a fabulous ivory dress that has lace and pearl detail that makes me melt. I think I must have been a fashion designer in my previous life. I'm just like Pavlov when I get around designer clothing. My mouth starts to water, my pupils dilate, my palms start to sweat, it's pathetic.


We took good notes on all the great table setting ideas, talked to the cake decorators, perused the photographers and videographers, put down a few small deposits, and generally had a great first taste of wedding planning. I am most definately in my element when I'm planning a party.


I'm going to have to resist the urge to go over the top. I tend to do everything a little bit "Donald Trump" until the Big Guy brings me back down to earth. I would probably plan something like Celine Dion's Las Vegas vow renewal if I didn't have my man to keep me in my place. Oh, and the Groom is a bit worried I'll scare his family with my wild,wild, party ways so I have promised to behave myself.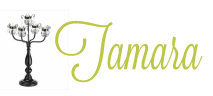 1 Comment »